Our staff's commitment to you
Our staff is committed to providing support, compassion, information, and direction as needed to all members of our community, their families, and friends who are dealing with loss and grief.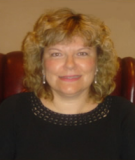 Anna O'Lear
Funeral Director
Anna, born in Biecz, Poland, came to the United States in 1962 with her family settling in Yonkers, New York. She graduated from Gorton H. S. in 1972 and then went on to Westchester Community College where she graduated with an AS Degree. She also attended Mercy College, where in 1976, she graduated with a 'Bachelor of Science Degree-Elementary Education and Psychology, and ultimately Manhattan College, graduating with a Master of Science Degree-Remedial Reading. Anna was a teacher locally for 12 years. Anna speaks fluent Polish and is conversational in Ukranian.

In 1993, Anna began working for her aunt, Ann Duchynski-Cherko, at the Duchynski-Cherko Funeral Home. It was at this time, she decided to go back to school and obtain her funeral director's license. Anna graduated from the McAllister Institute of Funeral Service, Inc. in 2000. She has been a fully licensed New York State Funeral Director since 2002, and has been the manager of the Duchynski-Cherko Funeral Home since then. In April 2007, Anna, and her husband Ted, purchased the funeral home, and run the business with their son, Christopher, keeping it, as always, in the family.